Go here to register for tickets for this event.
As you know for the last 25 years the Edmonton Seniors Centre has hosted 100 low income seniors on Boxing Day for a full turkey dinner. Watch the newsletter for more details.. You'll be able to purchase tickets in the next few weeks, so watch this space.

The meals are being catered by the Westend Seniors Food Program and delivered to your door by drive happiness. While the cost is only $5, we are limiting the number of tickets per person to two. This special meal is meant for seniors who are alone or have little family and for those with low income, so if you'd like to donate meals to seniors who are in need at Christmas, you can contact: AED@edmontonseniorscentre.ca or outreach@edmontonseniorscentre.ca. We'll make sure your donation is delivered to a senior in need.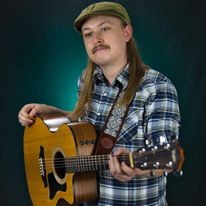 Benjamin Williams began his career with classical guitar studies at 5 years old. Now a professional entertainer who you can find singing at farmers' markets, clubs and other local establishments, he has become a staple in the Edmonton music scene. He will be doing our Boxing Day Concert. Anyone can attend on Zoom and watch this space for registration details.
He'll be preforming on Dec 26th from 1 to 2pm. Join in an sing along!