Respecting, connecting, evolving, and empowering seniors since 1976
Edmonton Seniors Centre is a non-profit organization dedicated to providing support and opportunities to seniors to further their overall well-being and quality of life.
Edmonton Seniors Declaration
• Individuals are respected regardless of age.
• All generations have much to teach and learn from each other.
• People of all ages feel safe, empowered, and supported as individuals, so that they can age well, connect with, and enrich the community.
• Urban spaces are intentionally designed to be vibrant, inclusive, and accessible to meet the interests and needs of older adults.
• Older persons have access to information, programs, and services that promote engagement.
ESC recognizes, respects, honours, and acknowledges Treaty 6 Territory. The traditional and sacred lands of many Indigenous people, including the Cree Nehiyaw, Ojibway Anishinabe, Sioux Nakota, Metis, Blackfoot, Dine and all other Indigenous Nations upon which the Edmonton Seniors Centre is situated. We also honour the Chiefs and Elders past, present, and future.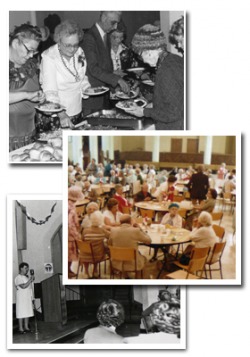 In 1970 a group of Danish seniors began meeting weekly in the basement of St. Joseph's Cathedral. As membership increased, a drop-in centre was formed and in 1976 'West Edmonton Seniors' was incorporated as a non-profit organization.
The group moved to the Edmonton General Hospital in 1991. Originally on the main floor of the hospital, the Centre relocated to the 6th floor in 1993 then back to the main floor in 1997 into what used to be the Day Hospital. In 2005, West Edmonton Seniors changed its name to Edmonton Seniors Centre to reflect the fact that, given the City's expansion, we were no longer in the west end!